South Yorkshire Police has invested in cloud-based data analysis technology from Chorus to help solve data volume and complexity challenges when investigating crime.
Chorus Intelligence, the digital intelligence and investigation software provider, today announced that it has been selected by South Yorkshire Police to provide its data cleansing and analysis solution, Chorus Analyse, to Analysts and Investigators across multiple departments.
The deal sees Chorus further cement its position as the leading provider of data cleansing and analysis tools for UK law enforcement, with most forces and major agencies now using them.
South Yorkshire Police will give their Analysts, Communications Data Investigators (also known as Single Points of Contact (SPOCs)), and Radio Frequency teams access to Chorus Analyse from a secure cloud environment. It will help them cleanse and analyse mobile phone data when investigating crime.
Chorus Analyse speeds up the process of turning data into intelligence and evidence. It can ingest vast amounts of different data sets and cleanse, format, and export it to an evidential standard. Users of the software are empowered to spot patterns in data and form connections through mapping, charts, and reporting tools.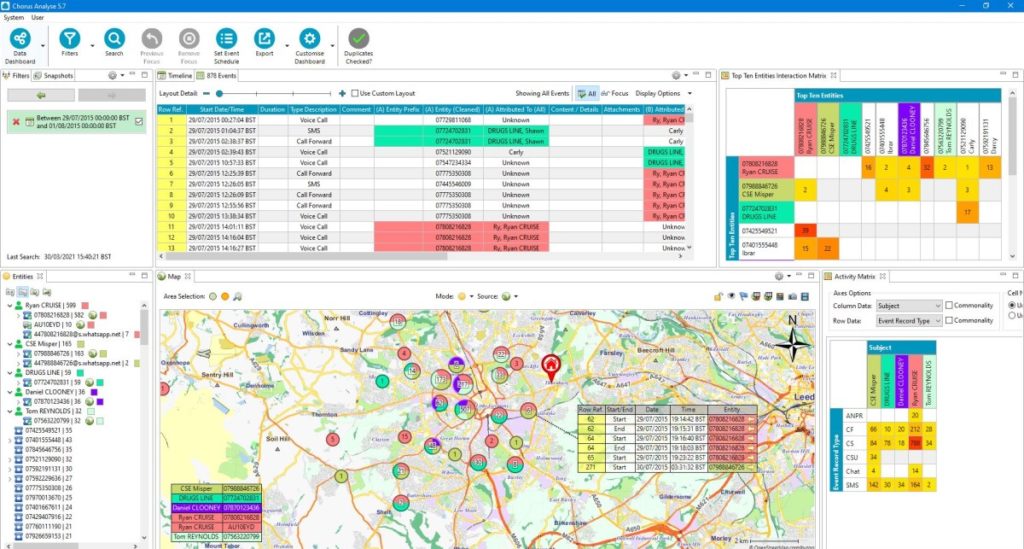 A key foundation of South Yorkshire's success in developing an outstanding police force is its recognition of the value of technology and leveraging data effectively to protect the vulnerable.
A spokesperson for South Yorkshire Police said, "we now live in a digital world where modern day crime presents many challenges. It would be almost impossible to analyse the large quantities of data now available in criminal cases and protect the communities of South Yorkshire without investing in technology. It is important we give our staff the right tools and develop our digital capabilities to address these challenges"
Boyd Mulvey, CEO and Founder of Chorus, wished to welcome South Yorkshire Police to the Chorus Community.
"We are delighted to be working with South Yorkshire Police. We recognise that our tools play a major part in assisting law enforcement with the challenges they face around data. We will work closely with them to ensure we are doing all we can to help them tackle serious and organised crime and protect the most vulnerable members of their communities."
The Chorus software will be deployed on Chorus' Police Assured Secured Facility (PASF) accredited cloud environment which will enable data sharing and collaboration with partner forces and agencies. The deployment will also give South Yorkshire Police the chance to evaluate the wider Chorus Intelligence Suite which enables the collection, development, and dissemination of data in one secure place.
For further information please visit chorusintel.com or contact [email protected]