Chorus has partnered with IBM and Arrow to offer i2 Analyst's Notebook and iBase sales, training, and expertise.
We recently talked to Policing Insight  about the importance of integration and interoperability, especially within the law enforcement world. We are now taking great strides in this area by not only integrating with IBM i2 Analyst's Notebook (ANB) and iBase but now having it as part of our sales offering.
Facilitated by Arrow, an expert provider of technology services and has a global network of partners that helps to connect people with the right technology, the agreement allows us to offer i2 products alongside our own Intelligence Suite. Giving Analysts and Investigators access to a wide range of tools that are required to do a very difficult job. Being part of their ecosystem will allow us to bring more value-added integrations to our customers. Our Technical Lead and head of our innovation centre in Cambridge, Adam Etches, explains a little more below.
Chorus integrates with i2 in two very exciting ways. Firstly, our leading data cleansing and analysis tool, Chorus Analyse, seamlessly works with i2 ANB via a plug-in. You can export your fully cleansed and formatted communications and device data from Chorus into i2 ANB for further in-depth analysis using i2's unique features.
Secondly, and most exciting of all, is the integration of our new Chorus Search product. Chorus Search allows internet-based intelligence sources and social media platforms to be connected to i2 ANB to enrich the data that is already being analysed. Example connections include Pipl, ORBIS, and Twitter to name a few but bespoke connections can be created if a customer has a specific request.
Even better is the way that these sources are connected to i2 ANB. 'Hints' are offered to the user prompting that more information is available on an entity. They can then visualise that information using a simple 'right click'.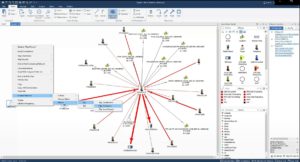 There is a lot of advanced work that goes on in the background and we will be revealing more about Chorus Search and our integrations during an online showcase taking place on 18th February. You can register to attend here.
https://www.eventbrite.co.uk/e/chorus-search-showcase-tickets-139270093599
We believe that analytical and intelligence technology is vital for law enforcement to get to grips with data and combat serious and organised crime. We will continue to innovate and improve our offering through our own R&D but also through industry partnerships and integrations that add value to what we provide. We think we've started with a ground-breaking one here, but do let us know if there is anything more we can do to help.